The Shouran Academy Juvenile Detention Center is the starting location in Apocalypse no Toride. Upon arrival,
Maeda
meets the principal, who accuses him of murder. Maeda denies this and begs the principal to believe him. However, the prinicipal dismisses his claims and sends him to cell 4. There, h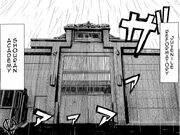 e meets three of the other main characters: His cellmates
Yoshioka Masafumi
,
Iwakura Gou
and
Yamanoi "Noiman" Mitsuru
.
The Shouran Academy is located in the Chiba Prefecture, K City. Established in 1948 (year 23 of Showa Period) it is situated on Boso Peninisula of Chiba Prefecture, along Tokyo Bay.
There are three main buildings. They contain residential rooms, solitary confinment rooms, classrooms, a dining hall and administrative offices. The academy houses 124 Inmates and 20 Guards, 144 residents in all.
In the three main buildings, the first is further divided into 12 rooms holding four inmates each. There are also 5 rooms that are used for solitary confinement, for especially troublesome people.
Wake-up call is at 6:30AM, after which convicts need to do domestic chores. In order the schedule would be (as stated by Maeda): cleaning the floor, washing up, roll-call, morning cleaning, meditation, breakfast, roll-call, morning assembly, exercise, vocational training, studies and lectures on various subjects, roll-call, meditation, lunch, free time and then further studies. [1]
References
Edit
[1] Vol 1, Chapter 1, Page 40
Ad blocker interference detected!
Wikia is a free-to-use site that makes money from advertising. We have a modified experience for viewers using ad blockers

Wikia is not accessible if you've made further modifications. Remove the custom ad blocker rule(s) and the page will load as expected.